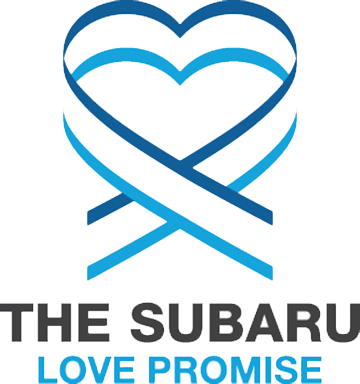 What is the Subaru Love Promise?
Subaru and our retailers believe in making the world a better place and the Subaru Love Promise is our vision of respecting all people. This is our commitment to show love and respect to our customers and to work to make a positive impact in the world.
How is Walser Subaru dedicated locally to the Love Promise?
Our love promise can be seen in different ways such as local charity events and non-profit charities, along with share the love events. This is our way of being apart of the community.
Rein in Sarcoma , Children's Cancer
Love Promise Stories from Walser Subaru
Subaru and Walser Subaru believe in making a positive impact on the communities in which we live and work. We uphold that belief through our Love Promise Community Commitment. Every month, we select inspiring stories from customers and partners from around our area who strive to support our collective commitment and feature them here
Subaru Loves Pets - Teddy's Story - Jill A
Teddy came to Wags and Whiskers in June of 2020 and we were expecting a typical, goofy, fun loving puppy to arrive on transport day. However, when Teddy got off the transport van, it was clear that he was having a hard time using his back legs appropriately and that he needed to be seen by a specialist. After a trip to the neurologist, Teddy was diagnosed with a severe congenital spinal abnormality. His symptoms were indicative of a thoracolumbar spinal cord dysfunction. This abnormality was the source of his inability to move his back legs appropriately, and, unfortunately, this is not something that could not normally be fixed and could cause future medical hurdles for Teddy. Wags & Whiskers and Teddy's foster family were determined to do everything in their power to give Teddy the life he deserved. Teddy's story was shared on Facebook, and a wonderful, generous woman named Anne donated a doggie wheelchair for him to use. With the help of his wheelchair and the help of the resident dogs in his foster home, Teddy learned all about playing, exploring and running like a puppy. He eventually built enough muscle in his back legs to be able to walk without the help of his wheelchair. Teddy was adopted this October, and while he may face medical challenges in the future, for now he has hit the puppy jackpot! He lives with 2 other dogs and 2 cats, and gets to take trips to get a puppuccino with his family! His adoptive family reports that he can even walk up a few steps on his own. When Wags and Whiskers commits to rescuing an animal, we are all in. This doesn't change if an animal ends up needing more medical care than expected. Donations make it possible to get our foster animals the best veterinary and specialty care that they need to make sure they are happy, healthy, and ready for their forever families! Walser Subaru has continually been a big supporter of Wags & Whiskers by hosting adoption events, sponsoring adoption fees, collecting donations during the holiday season, and most recently donated $100 per animal that was adopted in the month of October.
---
Bringing Comfort & Hope to Masonic Children's - Shannon B
June 26, Minneapolis – Walser Subaru and The Leukemia & Lymphoma Society, MN-ND-SD Chapter spread love, hope and warmth to blood cancer patients and their families staying at the University of Minnesota Masonic Children's Hospital. Kids on the BMT floor stay in their rooms from four weeks to three months. In hopes of brightening the day, more than 30 volunteers gathered under the hospital windows to create a flash mob. The nurses were part of the plan and made sure patients looked out their windows in time to see the high school dance team perform. After lots of cheering, volunteers from Walser Subaru and LLS held up poster boards to spell "No One Fights Alone". The festivities were inspired by one patient in particular – 16-year old Madisen Behl, who had just received a bone marrow transplant at Masonic. At age 9, Madisen was diagnosed with essential thrombocythemia. In June 2018 after a routine bone marrow biopsy doctors determined her disease had progressed to myelofibrosis, a chronic form of leukemia. It was decided a bone marrow transplant was the best option and only cure for Madisen. May 28, 2019 Madisen received a transplant from a very special donor, her 14-year old brother Ryan. During the flash mob, she was 29 days post-transplant and doing wonderful.The Behl family accepted a blanket on behalf of LLS and U of M Masonic Children's Hospital in the lobby after the flash mob. Walser Subaru also surprised her with a bag full of presents to keep her entertained for her long recovery. They even delivered goodies for brother Ryan! Madisen's mom said, "We are very grateful to the U of M for the amazing care they provide, and to LLS and Walser Subaru for taking time to bring some cheer and support to kids during this difficult journey."
---
Thank you Walser Subaru - Samantha W
Thank you to Walser Subaru for supporting Make-A-Wish Minnesota during the 2018 Subaru Share the Love event! Make-A-Wish Minnesota received a donation of $31,321 which allows us to help grant more wishes for wish kids in Minnesota. Thanks to Subaru and their generous customers, over $3.6 Million was donated to Make-A-Wish America. Donations like this help us give wish kids, like Zane, the mental strength to power through their illnesses through a wish come true. We couldn't do what we do without you!
---
#SubaruLovesToCare with LLS + Masonic Children's - Celeste L
On Tuesday, June 26, 2018, as part of the national Subaru Loves to Care program, Walser Subaru worked with The Leukemia & Lymphoma Society to deliver 80 blankets, along with arts and crafts kits and cards of hope to patients at University of Minnesota Masonic Children's Hospital.Jeff Holmquist from Walser Subaru and Nancy Warner from the Walser Foundation came to represent Subaru.They lit up the room when they brought in the gifts and were excited with the opportunity to hand them out to patients at the hospital. The patient ambassador who accepted the blankets on behalf of patients at Masonic Children's Hospital was Nate Gfroerer. Two and a half years ago, 14-year-old Nate received the life-changing news that he had Chronic myeloid leukemia. For a time, Nate was treated with a targeted therapy drug,tyrosine kinase inhibitor (TKI). However, Nate's specific CML type was not responding to these medications. The oncologist then suggested a bone marrow transplant. Fortunately, Nate's older sister, Katelyn was a perfect match! On Feb. 9, 2018, Nate was admitted to the Masonic Cancer Center. After undergoing radiation, chemo, and a bone marrow transplant— Nate is now cancer free! Patients were excited to see the blankets and craft kits and touched by the cards they received in the hospital. They spoke of how much these acts of kindness mean to them and how inspiring it is to see people making a difference. Nate and his family were especially grateful for the cards and blankets from Subaru. They couldn't have had better things to say about the staff at Masonic Children's and how smooth they made the whole process. Nate is happy to be in remission and spoke of his summer plans looking at colleges andgoing to his cabin.
---
Walser Subaru hosts Adoption Event - Jill A
Walser Subaru showed their commitment to "Subaru Loves Pets" month by hosting an adoption event on October 28th with the local rescue organization Wags & Whiskers Animal Rescue of MN. From the beginning stages of planning, Kristen made everything so smooth and easy for us. There was local advertising, social media advertising and people were eager to attend the event. When we arrived all of the employees of Walser Subaru were so helpful and made our fosters and their animals feel welcomed. We had 13 dogs and 18 cats in attendance and had many successful adoptions originate from the event. The feedback we received from the adopters and our foster families were filled with so many positive stories and a strong desire to work with Walser Subaru again in the future. The sponsorship, time, care, shelter kits and new adoption parent bags were more than we could have ever asked for and we at Wags & Whiskers are very thankful to have developed this new partnership with Walser Subaru. The support for our mission of saving animals, educating the public on fostering, adopting, and the importance of spay and neutering animals, was uplifting from the National and local level of Subaru. You have won us over and you will have new customers for life because it.
---
Flash Mob for #SubaruLovesToCare with LLS - Shannon B
For the second year in a row Walser Subaru, Subaru of America and The Leukemia & Lymphoma Society (LLS) are spreading love, hope and warmth to cancer patients and their families in communities across the country. This June, customers visiting Walser Subaru were given the chance to write personalized messages of hope to patients in their local community. Those care cards were then handed out alongside a blanket to provide comfort and warmth to patients during their cancer journey. Kate, a current patient at University of Minnesota Masonic Children's, was diagnosed with acute myeloid leukemia (AML) this year at the age of thirteen. On June 27, members of the LLS Board of Trustees, generous staff from Walser Subaru, and a group of Kate's friends created a flash mob underneath the windows of Masonic Children's with posters and messages of hope for all the children on the BMT unit to see from their rooms. The flash mob of course included crazy hair, blow up guitars, hula hoops, tons of posters, and of course the donated blankets from Walser in hopes of bringing some smiles to the faces up above.
---
Subaru and NWF Love the Earth! - Kendra H
We used Earth Day as an event to invite parents, grandparents and friends to the school to clean up and plant our school garden. We followed the garden work with pizza lunch and a bonfire for the kids and their adult guests to enjoy together. Part of our Subaru grant was used to purchase many pairs of kid-sized garden gloves for our annual Earth Day Garden Clean-up event. Thanks to National Wildlife Federation and Subaru for helping us fulfill our mission of "Academic Achievement through Study and Exploration of the Natural World."
---
Subaru Love Promise - Cheri F
I'm sharing this as a volunteer for Homeward Bound Rescue, a No Kill rescue and placement for homeless dogs, puppies and cats. The dedication of the Burnsville Walser Subaru employees has spanned over 10 years of caring. They truly understand the journey of the homeless pets just waiting for a forever home. The events in the past have been dog washes, adoptions, being part of the Aids Walk and even a baseball game. This year they decided to do "The Tree Of Hope" at the dealership. They gave their customers incentives to donate to the rescue. I almost cried when I saw the giant amount of gifts. Blankets, food, beds, toys, raw hides and more. As we loaded the bounty in my SUV, it was packed to the brim with all their needs. Dreams do come true for the orphan pets. We are grateful for all the generous donations. Walser Subaru Burnsville, you have helped us save more four legged souls.
---
Donation gives high school program a major boost - Russ T
With the generous financial donation from Walser Automotive Group, I was able to upgrade our equipment to the most modern day standards. Our Burnsville High School students are now able to gain skills relevant to industry standards, and be well positioned for employment and/or further education after graduation. We were able to replace our decade old tire changing machine and tire balancer with the most modern road force balancer and robotic tire machine. In addition, Walser wants technicians to know how to use an "on car" brake lathe, so with their donation, I was able to purchase one and am now able to teach that skill. This new state-of-the-art equipment will provide my students with incredible learning opportunities that will prepare them for future success in the automotive industry.
---
See you in 6 months! - Grant A
Grant was diagnosed with CML at age 7. After a year of treatment, his leukemia was in remission. He goes to Children's quarterly and receives an annual bone marrow biopsy. Two of his medications are possible due to LLS-funded research. "When I take medicine, it keeps my CML low so I can be a normal 13-year-old." Grant fund-raises year round and threw out a pitch at Strike Out Cancer. At baseball practice, he discovered his new coaches delivered Subaru blankets to the Masonic Cancer Center in memory of their coach, Todd, 2 weeks before Grant's delivery! They have more in common than baseball. Walser's blanket delivery was during Grant's quarterly visit to Dr. Perkins. We met between Grant's labs and clinic appointment. Afterward his mom sent this message: "Thank you so much to all involved today! Grant loves his blanket and informed me he may not get off of the couch the rest of the night because it's so comfy! Grant received a blanket his first night in the hospital after being diagnosed. That was his lucky blanket. Once we heard the word remission, the lucky blanket went into his closet. Today we turned the chapter in Grant's story with a new fancy blanket and news of his 5.5 year anniversary! We will miss seeing you, Dr. Perkins, but are excited to visit the clinic only TWICE a year!" *Grant would like you to know that his "Grandma Jules loves her Subaru and has driven one her entire life! Well, not her entire life - because she's really old".
---